Nick O'Hara here,
I'm delighted to announce Ireland's favorite Poker event - IPO 2019.
I'll be updating you here and on various other social media platforms with all you'll need to know about this year's IPO.
Please visit the IPO website for more Here
The International Poker Open is returning to Dublin for it's 13th time this year. The IPO is one of Europe's longest running annual Poker Events and
draws players from all over Ireland and Europe while also attracting Players from the other four continents.
Congratulations to last year's winner, Joseph McKeown from England who, after a deal, took home a cool €24,370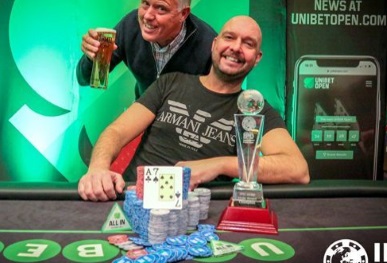 Check out every IPO winner over the past decade on the Wall of Fame Here
This year's IPO promises to live up to it's reputation as being one of Ireland's largest and most action-packed Poker Events with
fantastic prize money for an affordable buy in
.
Highlights for IPO 2019

* Online partner is the amazing Unibet

* Addition of a new €80 "Warm Up" tournament at 15:00 on the first day of the event (Wed 23rd Oct)

* IPO High Roller - Building on the success of the last two year's fantastic IPO €500 High Roller

* Mini Main - One Day Event on Monday 28th October

* Buck-Shot-Pong returns to the IPO party on the saturday night
The IPO has it's own website with information about the event, Blind Structures,
event schedule, a Wall of Fame and much much more.


www.internationalpokeropen.ie
Main Event Blind Structure
1. Who is running the event (organisation, society etc) -
Vegas Events, Nick O'Hara
2. The purpose of the event (charity, commercial etc) -
Commercial
3. Date -
23rd to 28th October 2019
4. Location -
Bonnington Hotel, Drumcondra, Dublin 9, Ireland
5. Any guaranteed prize pool -
No
6. Registration and Start time of event -
Reg from 12:00, Starts at 2pm
7. Any prerequisites (member of club, society etc) -
Sign up to Free Membership on the day (must have valid photo ID)
8. How can tickets be purchased & is there a maximum number (in advance, at the door etc) -
Online
Here
, Cash on the day, Credit/Debit Card on the day (3% fee for card transactions) (or via the online client to be announced shortly)
9. Type of Tournament (Hold'em/Omaha etc Freezeout/Rebuy etc) -
NLH- One Entry & one Re-Entry per Flight
10. Cost of entry -
€300
11. How much of the entry fee is made up of registration fee -
€40
12. If a rebuy, cost of rebuys/top-up -
NA
13. How many and what duration are rebuys available -
NA
14. How long is late reg, and will you start with a full stack?
Late Reg for 9 Levels. All late players receive a full stack during the late reg period
15. % of entry fee/rebuys/top-up going into prize fund -
97.5%. (The 2.5% is a gratuity for IPO Staff)
16. How many places being paid -
Approx 12.5%
17. Is any money from the prize fund held back for future tournaments, if so, how much -
No
18. Any tickets for future events given out as prizes. If so, how many -
No
19. Any additional prizes given out (merchandise etc) -
TBC
20. Starting chips -
30,000
21. Rebuy and top-up chip amounts -
NA
22. Blind levels -
See image above
23. Blind timeframes -
Day 1's - 40 mins, Days 2 & 3 - 50 mins
24. Are there going to be dealers and their level of skill -
Yes, Highly Skilled
25. Will there be a documented list of rules -
Yes
26. Is there a tournament director -
Yes, Nick O'Hara
27. How are disputes handled ; who has final say -
TD has Final Say
28. Are there any cash games offered, if so, please outline the rake for each limit offered -
Yes, Rake
NLH €1/€2 – 5% Capped @ €14
NLH €2/€5 – 5% Capped @ €12
PLO €1/€2 – 5% Capped @ €12
PLO €2/€5 – 5% Capped @ €10
ROE €1/€2 – 5% Capped @ €12
€1 Service Charge applies from each pot of €20 or over . The entire €1 is added towards the dealers Tip Pool .
.